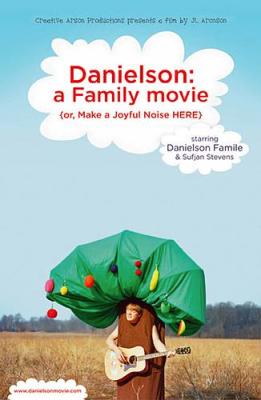 "ships" von danielson ist eine meiner lieblingsplatten des jahres. Im wesentlichen ist es die überbordende kreativität und unkonventionaliät, die mich begeistert. idiotisch vorurteilsbehaftet erwartet man sowas von musik mit religiösen inhalten erst mal nicht.
auf dem
internationalen filmfestival in frankfurt
hat
jl aronson
seinen film:
danielson family – a family movie
vorgestellt. er hat daniel smith und die familie von 2002 begleitet. Der film zeichnet die beginne des familiären kollektivs als einmalig geplantes kunstprojekt nach und zeigt, wie daniel smith die band bekannt und in der indieszene erfolgreich macht. die nimmt die band begeistert auf, ist aber auch aufgrund der religiösen texte regelmäßig irritiert. als die familienmitglieder ihre eigenen wege gehen, muß sich daniel smith als solokünstler neu definieren. dabei hilft ihm der junge sufjan stevens, der mehrere jahre fester teil der band war und, von daniel smith gefördert, als solokünstler erfolgreich wird. heute ist die familie mit den zwei labeln (sounds familyre und asthmatic kitty) das zentrum für tolle bands wie woven hand, my brightest diamond, shapes and sizes oder the curtains.
auf "ships" schließt sich der kreis, daniel smith hat viele der weggefährten aus 10 jahren bandgeschichte bei der produktion beteiligt. ich freu mich wie bolle auf das einzige deutschlandkonzert 2006 von danielson am 8.12.2006 in darmstadt. ich hoffe, die ganze familie kommt.
links
danielsonmovie
[website zum film]
danielson
[website der band]
sounds familyre
[label]
asthmatic kitty
[label]
mp3s:
danielson familie -
good news for the pus pickers
[2002]
danielson familie -
rallying the dominoes
[2002]
brother danielson -
things against stuff
[2004]
brother danielson -
daughters will tune you
[2004]
danielson -
nice of me
[1999]