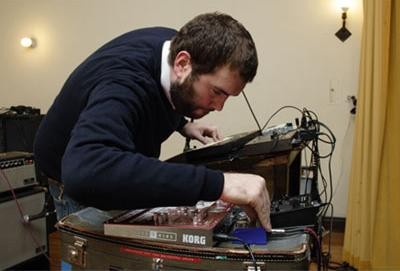 gestern owen ashworth, also
casiotone for the painfully alone
gesehen. ich hatte mir das auch so ähnlich vorgestellt. bärtiger typ, ein wenig linkisch, so teddybärmäßig tapsig, die dunkle gemütliche stimme voll seele und halt nur seine geräte und lieder über liebe und einsamkeit. das war die erste hälfte des konzert. nice, aber auch nur bestätigung der musik und meiner bilder im kopf. im zweiten teil kamen dann aber the dead science als disziplinierte backing band auf die bühne und damit auch ein bruch zum hauptthema der songs. schöne abwechslung. und die einfachen, reduzierten songs von cftpa funktionieren auch bei größerer musikalischer ausdrucksfähigkeit einer kompletten bandbesetzung.
the dead science
haben auch eröffnet. arty band mit herrlich schnöselig wirkendem sänger und großer fähigkeit zur spannungserzeugung. selten genug gelingt (vor)bands, all die ganzen lustig plappernden indieherzchen zum schweigen zu zwingen.
und erst im nachhinein hab ich's kapiert:
slender means society
, label und wohl auch irgendwie kollektiv, ist die klammer zwischen dead science und
cftpa
.
mp3:
casiotone for the painfully alone -
young shields
casiotone for the painfully alone -
cold white christmas
casiotone for the painfully alone -
lonesome new mexican nights
the dead science -
drrrty magneto
the dead science -
ossuary
the dead science -
gamma knife
beide bands noch auf tour in:
10.10.2006 Trier (D), Exhaus
11.10.2006 Freiburg (D), Swamp
21.10.2006 Graz (A), Veilchen @ Forum Stadtpark
22.10.2006 Wien (A), Chelsea
24.10.2006 Berlin (D), Ausland